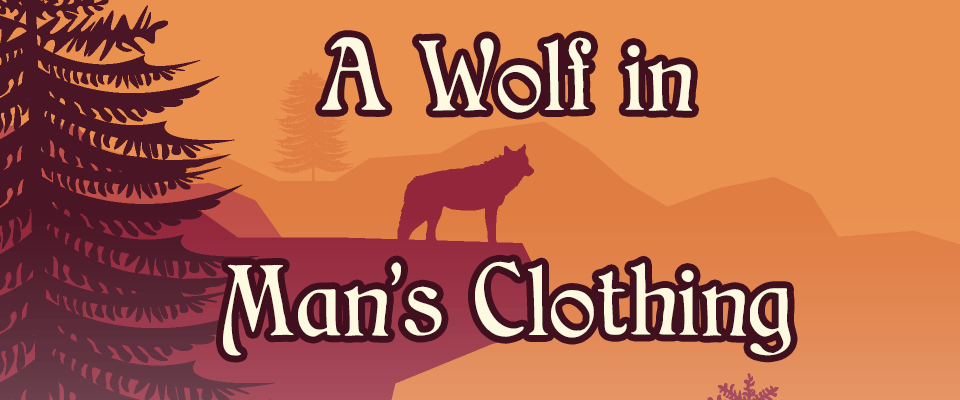 A Wolf in Man's Clothing
A Wolf in Man's Clothing is a solo journaling RPG played with a standard deck of cards, a 6-sided die, and a notebook.

You have been flung into a new, terrifying world and an unfamiliar body. Hungry, cold, and alone, you must try to find your way back to the time, place, and self you once knew.
You will investigate the trails left behind by myth and folklore in hopes you can either find a safe haven or a way back, dodging dangerous humans and fighting against nature itself to survive. The odds are not in your favor.

About
A Wolf in Man's Clothing is a game about introspection, determination in the face of the utterly hopeless, and choices: what we leave behind, what we pursue, and how these actions define us. Who are you? Who will you become?

This game was created using the Wretched and Alone game system mechanics outlined by Chris Bissette and Matt Sanders here. A Wolf in Man's Clothing was inspired by alterhuman experiences, especially those of otherkin and fictionkin.

Content warnings
This game includes themes of existential introspection, isolation, fear, suspense, violence, hopelessness, and sudden death. It is designed to be difficult, harrowing, and emotional. There are also some aspects of unreliable narration. If you are highly sensitive to any of these topics, it is recommended that you refrain from playing.

Purchase
In order to download this game you must purchase it at or above the minimum price of $8 USD. You will get access to the following files:
A Wolf in Man's Clothing PDF
1 MB
Exclusive content
Support this game at or above a special price point to receive something exclusive.
Community Copies
If you're in need and can't afford to purchase a copy of this game, have no fear: help yourself to a free community copy of A Wolf in Man's Clothing! Every sale contributes more copies to the pool:
PDF sales add 1 copy.
Tips in $2 increments over the minimum price add 1 copy per $2.